May 22, 2023
Kings View Behavioral Health Clinic Celebrates New Corporate HQ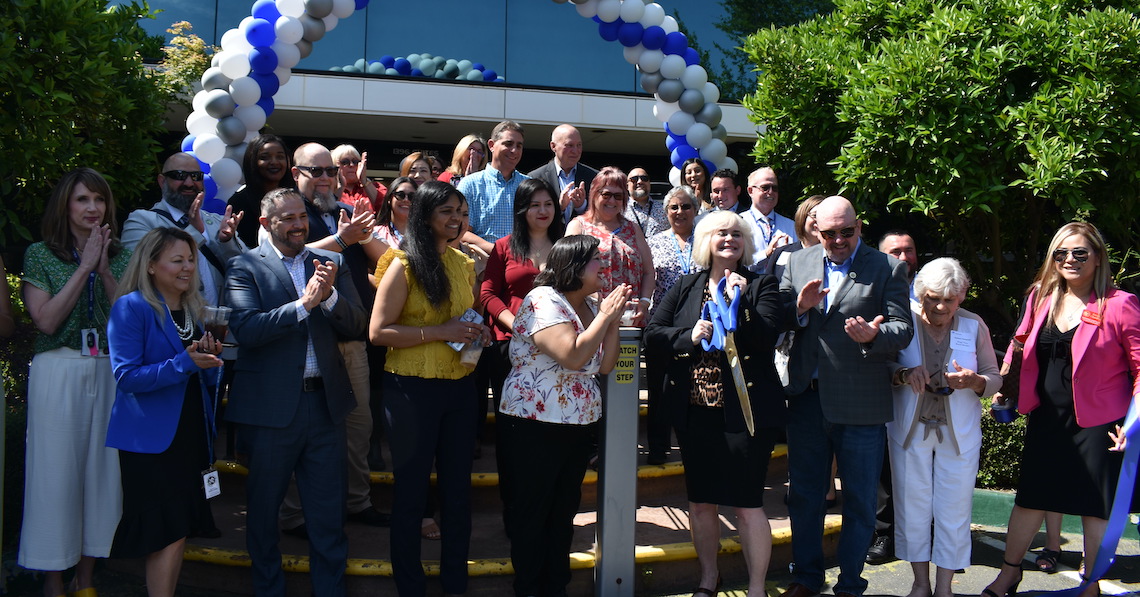 Behavioral health clinic Kings View celebrated the grand opening of its corporate office on Tuesday with staff and members of the Fresno Chamber of Commerce.
CEO Amanda Nugent-Divine shared that the company struggled to find a permanent home due to the expensive nature of corporate leasing, but due to the generosity of Granville Homes, they now have a permanent space at 1396 W. Herndon Ave.
"We have been leasing property, multiple properties throughout the county to provide our services. As you know, corporate leasing is not cheap. As a requirement, we've been having to throw lease money into that black hole, and instead now we own this building, and we get to build equity," said Nugent-Divine.
The expansion into a new corporate space will help Kings View continue to provide the communities throughout the Central Valley with the mental health services they need in order to thrive, said Nugent-Divine.
Nugent-Divine shared that she meets people from all walks of life in her job and believes that if there was a bigger conversation about de-stigmatizing mental health treatment, there would be less people suffering for prolonged periods of time.
"I would love it if we more often talked about treatment and care we received, not to highlight Kings View but to highlight the fact that there is no shame in getting mental health support," said Nugent-Divine. "The more unabashed conversations we have about that, the better."
Founded in Reedley in 1951 by the Mennonite Central Committee, Kings View was originally established as an inpatient hospital in an effort to address the need for mental health treatment in the community. Since that time, the company has expanded services and provides help to those in 35 counties, from Kern to Del Norte counties.
Expanded services include drug and alcohol treatment, a day facility for those with intellectual disabilities and behavioral health programs such as wellness centers and rural and metro programs that work with law enforcement, hotlines and more.
Due to the work Kings View does, and in honor of the company's milestone, Fresno County Supervisor Steve Brandau announced a proclamation that May 16 be recognized as Kings View Day in Fresno County. Brandau shared that one of the reasons Kings View is so important is because of the work helping those experiencing mental health crises. Kings View's call center takes calls from those seeking help with suicidal ideation or other mental health issues, and unlike many other centers, calls back within 48 hours to follow up with that individual and make arrangements for them to receive care, Brandau said.
"That's a special level of service. That's very valuable to Fresno County, our behavioral services department, and we just appreciate the partnership," said Brandau.
Representatives from Assemblyman Jim Patterson and House Speaker Kevin McCarthy's offices were also in attendance to show their support of the work and dedication Kings View provides to the Central Valley.
Source : https://thebusinessjournal.com/kings-view-behavioral-health-clinic-celebrates-new-corporate-hq/